Snake and i went to meet these robot menaces only to find they were ordinary looking Players with a very curious AI they seemed to move around and manuvere like a mindark official heavily armoured and also armed with a strong weapon and a very strong fap.
A friend of mine did get a kill shot on one of these robots and said all he received was a Korss 400 (L) Full TT and there we were thinking the whole effort was for a new type of weapon how disappointing.
Synopsis of the whole event was huge amounts of player decay due to the amount of player kills by you guessed it, other players claiming for their own personal prize of how many entropians they could kill in pvp.
So to the rest of the mxm guys you did not miss much except maybe saving you a lot of ammo and not 1 drop of loot to boot.
The event did not last that long maybe a hour and a bit but i spent most of the time avaoiding being killed by other players and the rest of the time tp ing back and forth as a result of being PKed.
So Jam Just for you i put a picture up of one of them because you said all you wanted to do was see one well there ya go buddy and free of charge lol.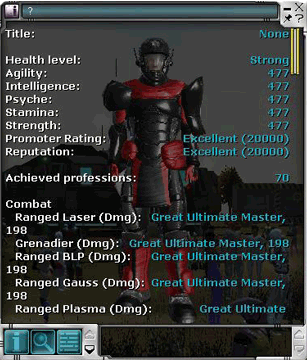 General




Posts

: 71


Join date

: 2008-03-24


Location

: Gold Coast - Queensland - Australia

Character sheet
HERO's: 1


Thanx alot Hero

Sergeant




Posts

: 18


Join date

: 2008-03-31


Age

: 48


Location

: West Coast, Sweden

Character sheet
HERO's: 1




Similar topics
---
Permissions in this forum:
You
cannot
reply to topics in this forum